A set of smart sprinkler equipment designed to reduce dust in construction sites has been put into use at the Wanjian International Hotel and Business Complex construction site in Urumqi Economic and Technological Development Zone (Toutunhe district), effectively clearing and cooling the air for nearby locals.
Wang Sheng, head of the Engineering Department of Xinjiang Wanjian Real Estate Development Co, who is building the project, said that the equipment covers all fences, outside scaffolds, and even the tower cranes in the main construction area.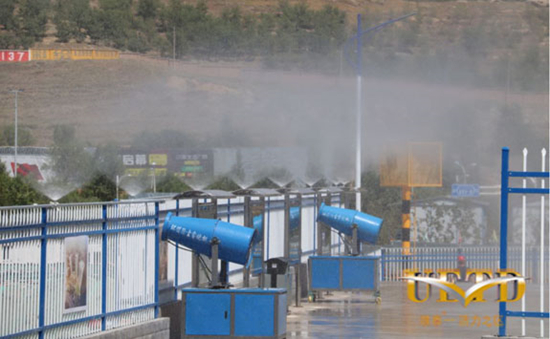 The sprinkler equipment is effective in maintaining the environment around the construction site. [Photo/uetd.gov.cn]
Consisting of six systems and one platform, the equipment is able to monitor the dust and construction situation in real time and then analyze the data, send early warnings, control spray automatically, transmit data wirelessly and inspect data information.
The equipment is also capable of monitoring PM2.5, PM10, air pollution index, noise, wind speed and direction, as well as other indicators of the construction site in real time.
Dai Fei, a technician for the project, said that the equipment has not only ensured the air quality but also created a comfortable and safe environment for workers.
Automatic vehicle-washing equipment was installed at the entrance to the site.